If you want to eliminate mercury and other toxins from the water you drink, then you can have a water filter plumbed in, but most people rely on using a water filter pitcher.
There are several brands of pitcher on the market, but the Rolls-Royce of them all seems to be the "ZeroWater".
According to their website, it removes much greater percentages of chemicals in the water than other brands like Brita. The downside is that the filter cartridges are huge, and fairly expensive ($15 each).
It's reassuring that it removes metals like lead, mercury, and chromium, as well as pesticides and other pollutants like chlorine, fluoride, micro-plastic particles, and a long list of other nasties, although it's not clear to what extent the filter removes hormones and antibiotics, which are now becoming an issue in some areas.
The ZeroWater filter pitcher comes with a gadget to test the solid content of your tap water, typically in the range 100 to 300. If you test the filtered water, the reading is zero, and in fact the way to tell if you need a new filter is when the reading starts to creep up from zero.
ZeroWater ZP-010, 10 Cup Water Filter Pitcher with Water Quality Meter
ZeroWater is the only water filter pitcher that removes 99.6% of TDS. Total dissolved solids are salt, metals & contaminants, like Lead, Radium & Chromium that get into your drinking water from run-off or old piping. ZeroWater products do so much more than provide you with tasty, filtered water. Our unique 5-stage filter removes virtually all total dissolved solids (TDS), a claim which no other filter pitcher or dispenser can put their name to.
1) Delivers the purest tasting water
2) The only filter certified for Lead & Chromium reduction
3) 3rd party tested to remove 99% of Chlorine, Fluoride, Radium and Asbestos
Only ZeroWater removes virtually all dissolved solids from tap water, and we feel so passionate about it that we provide a free water quality meter with all of our pitchers.
Sources
Environmental Health Perspectives: https://ehp.niehs.nih.gov/doi/10.1289/EHP4495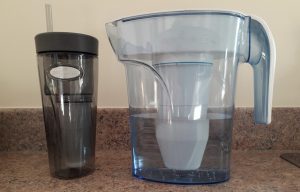 Link to my post "Toxins in tap water"